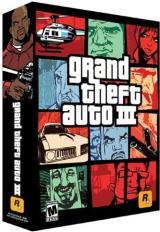 here are the cheat codes for GTA III PC
Cheat Codes
Edit
Armor
During game play, type in "turtoise" and you will have armor. Version 1.1 = Tortoise
·         Invisible Cars: anicesetofwheels
·         Destroy all cars: bangbangbang
·         Speed up Gameplay: boooooring
·         Flying vehicle: chittycittybb
·         Better vehicle handling: cornerslikemad
·         100% Health: gesundheit
·         Tank (Rhino) appears: giveusatank
·         Get All Weapons: gunsgunsguns
·         More Money: ifiwerearichman
·         Change Outfit: ilikedressingup
·         Cloudy Weather: ilikescotland
·         Rainy Weather: ilovescotland
·         Insane Pedstrians: itsallgoingmaaad
·         Super-speedy Game Clock: madweather
·         Higher Wanted Level: morepoliceplease
·         Crank Up Gore: nastylimbscheat
·         Pedestrians Attack: nobodylikesme
·         Lower Wanted Level: nopoliceplease
·         Foggy Weather: peasoup
·         Clear Weather: skincancerforme
·         Clock Moves Faster: timeflieswhenyou
·         Pedtrians Fight One Another: weaponsforall
===Reactivate Darkel ===
Note this changes a critical game file. Back up the original before you mistakenly alter your FAT.
​You can put the Darkel NPC model back into the game with Notepad. Right click the game folder, click Properties, and un-check the green dot from the Read Only box. Locate the default.ide and pedgrp.dat in the data directory and replace all instances of "scum_man" with "darkel".
Ad blocker interference detected!
Wikia is a free-to-use site that makes money from advertising. We have a modified experience for viewers using ad blockers

Wikia is not accessible if you've made further modifications. Remove the custom ad blocker rule(s) and the page will load as expected.